Project #RomanRoadsToday
My goal is to help people explore historic routes and Roman roads are a fantastic opportunity for this.
That's why I will share resources to discover Roman roads today on my Facebook page:

Roman heritage is not limited to the famous ruins of theaters and temples. Roman engineers built a network of paved roads spanning large parts of Europe, the Near East and North Africa.
While this was built around 2,000 years ago, the legacy of Roman roads can be seen in many places.
Being outdoors while exploring these traces of the past is a great combination.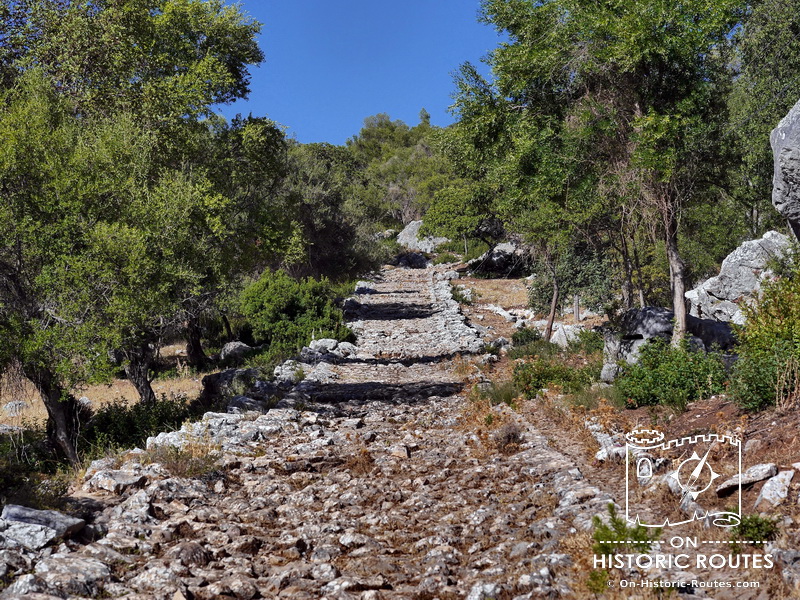 Many people have recognized this and there is a large number of resources available describing walking or cycling routes along Roman Roads.
They range from short walks to multi-day cycling tours. There are some walks on the historic surface of the Roman roads, other tours follow the course of the ancient road but on modern roads or trails.
The resources that I will share, are mostly from local tourism agencies. They provide maps, descriptions or even apps so that you don't have to do additional research to find you way and explore Roman Roads today.
With the #RomanRoadsToday project, I will post these resources on my Facebook page.
Follow the On Historic Routes page, to get all the updates.

To get started here are three examples
Explore #RomanRoadsToday!
Walking the Via Appia
Probably the most famous Roman road, this walk should be part of any visit to the Italian capital – link
Walking the Via Sett
This is a six day walking route in Switzerland across the Septimer Pass. Used frequently by the Romans, the pass carries no road traffic today and is great to explore on foot. – link
Chaussée Jules César
These are seven day walks along a Roman road near Paris. – link
If you want to explore a road further or generally want to look for Roman heritage in a particular area, have a look at Vici.org – the Archeological Atlas of Antiquity. It it a great interactive map listing a wealth of information.
Let's explore Roman Roads Today!
Share This: