Liége lies between the hilly Ardennes in the south and the Dutch border to the north on the Meuse river and it was only 30 km away from the border.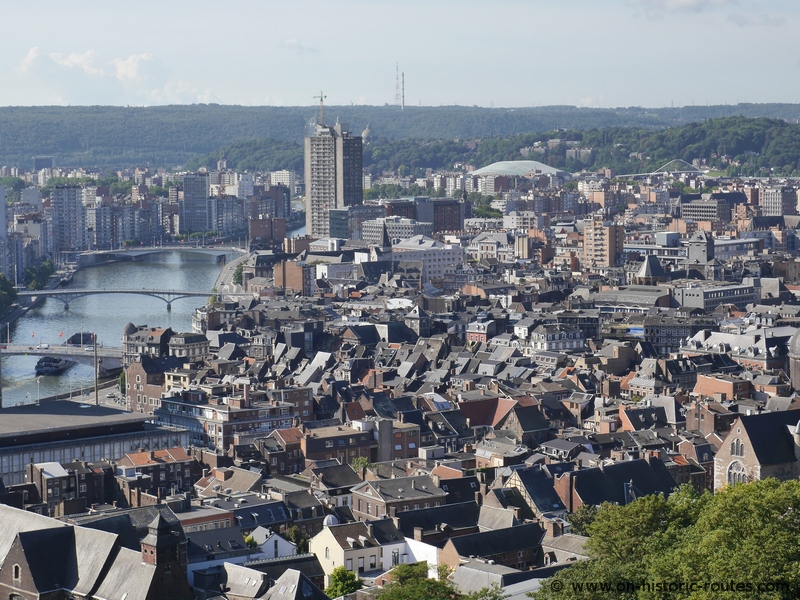 From the perspective of the German army, it was an obstacle in their plan to outflank the French forces by invading Belgium. As the strategic position was obvious, Belgium built a ring of twelve forts on the hills around the city in the 1880s. These fortification were attacked by the Germans on 05. August.
The attack on Belgium led to the British entry into the war, one more step to make it a global conflict.
The Belgian defenders held off the invading forces until the 16. August and only the super heavy artillery – the German Big Bertha guns – could destroy the forts. The previous head-on attack of a whole army was repulsed with heavy losses on both sides. In a spectacular move German forces under Ludendorff captured the city itself with it's old citadel – the city barracks at that time – on 06. August with the fighting outside of town continuing for ten more days.
The Big Berthas moved on to shell other Belgium and French fortresses (Namur, Maubeuge, Antwerp) and the First Army began its advance according to the Schlieffen plan.
Entering Liége today on the N3 from Aachen shows a busy city offering many contrasts. The small, flat area along the banks of the Meuse, with the old center is surrounded by steep hills. Modern high-rises are next to historic buildings and the densely populated city is close to the wooded hills of the Ardennes.
Traffic from modern highways, trains and ships on the Meuse crosses Liége within few hundred meters, showing that today the city still holds an important position in transportation for Belgium and beyond.
Traces from the historic days of August 1914 can still be found. Most importantly there is Fort de Loncin, one of the twelve forts of Liége. It suffered direct hits to the ammunition depot and exploded killing more than half of its garrison of about 550 people. Today it is a commemorative site and a museum. Other forts as Fort de Lantin and Fort d'Embourg can also be visited.
The old citadel on a hill overlooking the city center was already obsolete in 1914. It was demolished after the Second World War and today is the site of a big hospital. There are some remaining buildings in the park surrounding the hospital and a road following the former walls and offering great views over the city and the Meuse valley.
This post is part of the series "The way to the Western Front". Explore the full content here..
Share This: