Nanteuil-le-Haudouin was briefly occupied by German troops on 03. September but was on the open flank of the Germans on the days after that. The main body of the First army was engaged fighting the French and British forces from 05. September in what became known as the battle of the Marne.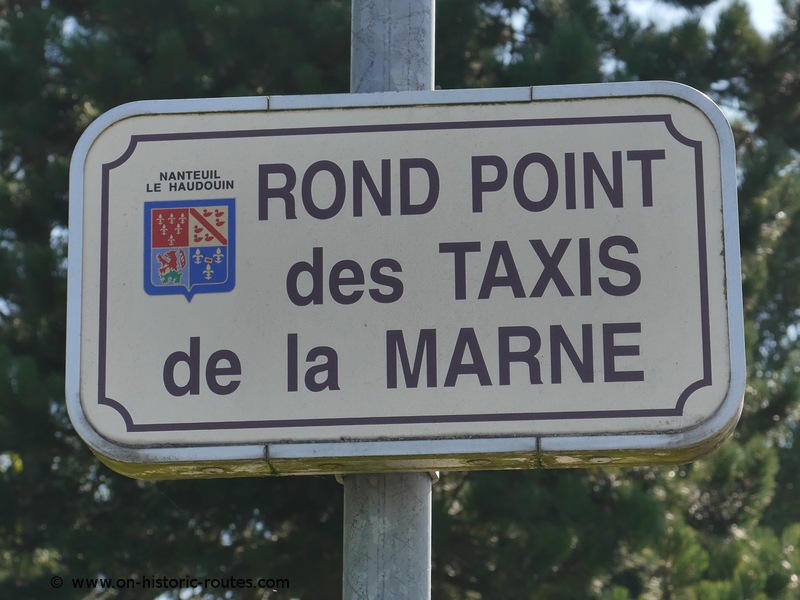 The French high command realized soon that they could attack the enemies flank if they were able to bring their troops into position. In an unconventional move, the military governor of Paris, General Gallieni, enrolled the taxi drivers of Paris as well as a fleet of trucks to transport soldiers about 50 km to the front.
On 07. September they were deployed in Nanteuil-le-Haudouin and attacked the flank of the German First army. The Germans had to retreat on 09. September.
The miracle of the Marne stopped the German advance, which seemed to be so powerful. It bolstered allied morale when it was at a low point. Both sides however had used up their strengths in four weeks of campaigning.
Obviously, the German plan of attack – the Schlieffen plan – had failed. Even invading Belgium, a neutral country, did not lead successful encirclement of the French army.
On the other hand, the French plans failed as well. The planned breakthrough in the center of the German line did not happen. Large important industrial parts of France were invaded, hundreds of thousands of soldiers dead or wounded and a large number of civilians displaced.
Nanteuil-le-Haudouin therefore symbolizes the tipping point of the events in the summer of 1914 and of the route that started in Belgium and will lead to the Chemin-des-Dames and to what will become the Western Front.
This post is part of the series "The way to the Western Front". Explore the full content here..
Share This: