In late 1918 the French high command resided in Compiégne. A place in the forest close to the city was chosen for the armistice negotiations with the Germans. Here, railroad tracks for artillery support ran parallel and on those parallel tracks 50 m apart, the two delegations came in by train.
The German delegation was brought in by train and the allied delegation used Marshal Foch's mobile headquarters, a luxury railroad car refitted as a conference room.
The Germans were not in a position to negotiate. The front had collapsed in September and October, the army was in a general retreat, revolution broke out among sailors in early November, the Kaiser abdicated and fled to the Netherlands.
On 11. November 1918, the armistice was signed and effective ending more than four years of war.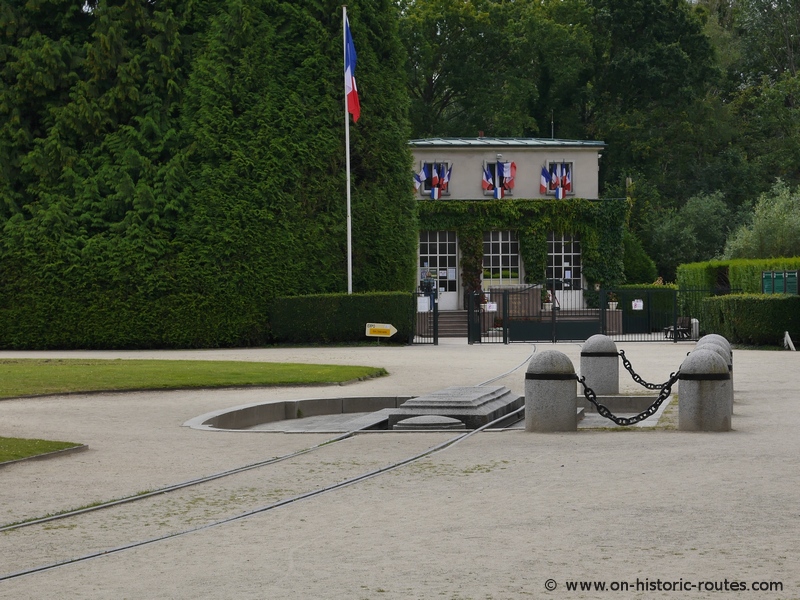 The site of the armistice was soon transformed into a commemorative site and became the clearing in the Compiégne forest that it is today. A museum was built that housed Foch's railway car.
In 1940 however, it was removed and put in the very same spot as on 11. November 1918. The German army had invaded France again and this time the Nazis were dictating the terms of the armistice, which was signed in the same railway car on 22. June 1940.
The car was then brought to Germany and was on display in Berlin. It carried so much symbolism that when the Second World War was lost, German troops set it on fire. Only a few metal objects survived and are now on display in Compiégne. The car that is on display now in the museum shelter is the same model, which was refitted to show the state the original car was in on 11. November 1918.
This post is part of the series "The way to the Western Front". Explore the full content here..
Share This: