The part of Germany east and north of the Roman fortified border – the Limes Germanicus – has long been thought of as wild and inaccessible Germanic country untouched by the Romans.
The Harzhorn battlefield helps to shed a different light on this part of history. It was discovered in 2010 on a strategic pass, where some of the foothills of the Harz Mountains can be crossed.
The same pass was used by an 18th century paved road and today's Autobahn A7 both within few hundred meters from the battlefield.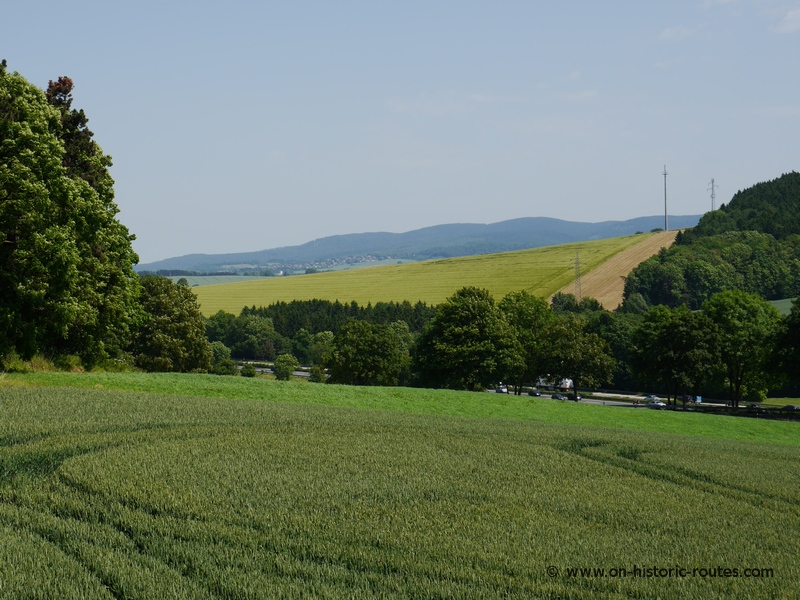 Little is known about the background of this battle. The analysis of coins found on site suggest the year 235 AD, more than 100 years since the Limes was built and fortified and not long before it was overran around 260 AD.
The Roman troops seem to have come from the north and were presumably on their way back to Mainz some 250 km away. That's where the major garrison was and they were probably coming from a punitive expedition against Germanic people.
The route of the campaign or it's reason remains unknown as well as the strength or the troops.
Archaeologists found remains of wagons and harnesses suggesting that a supply train was part of the troops. Furthermore, arrow heads from an archery unit, heavy bolts from ballistas (early ranged weapons) and a whole chain armor from an officer were found only centimeters below the surface.
Judging from these artifacts and the markings on some of the equipment, a large force of more than 1,000 Roman soldiers was involved in the battle, when they were ambushed on the pass. They seem to have been victorious, but the amount of equipment left behind suggests a quick onward campaign.
Researchers were able to analyze the battle in detail using the location and direction of arrow heads and bolts. Their findings are explained in detail on information panels on location along a walking trail, which leads around the battlefield.
A visitor center has also opened in summer 2014, explaining the background and findings on the Harzhorn.
When you are traveling on the A7 from Frankfurt to Hanover, it is the perfect spot for a break. Only minutes away from the next Autobahn exit, you can experience this unique location.
There is information available in English including directions.
During the Winter months the visitor center is opened Sundays 1 to 4 PM, but the walking trail is self guided and can be accessed anytime. It surely is worth a visit.
Newsletter Service
Did you like the article?
Then sign up for our free monthly email newsletter to get all our new posts right to your inbox.
Share This: